Update…
Tuesday, June 23rd, 2015 at 12:14 pm
A California congregation celebrates sanctuary!
[from UCC online, by Connie Larkman]
A California United Church of Christ congregation threw a "Green Card" party Saturday afternoon, May 14, celebrating the promise of citizenship for a woman the church sheltered, in sanctuary, from the threat of deportation for nearly three years.
"When me and my family went to that church, these people were so happy for me and my family that I got my Green Card!" said Liliana Sanchez de Saldivar.
Sanchez de Saldivar, now in her late 30s, was a young mother from Mexico living in Oxnard, Calif., when in August 2007, after threat of deportation, she was offered sanctuary by the United Church of Christ in Simi Valley, finding refuge with the congregation of less than 100 members, living with an infant in the church parsonage.
---
The Justice Seeker, December 2015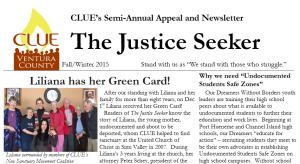 Apriete su cursor sobre la imagen para abrir este documento y otros documentos pasados en PDF.
---
---
June 29, 2015
"Blessed are the merciful, for they will be shown mercy.  Blessed are those who suffer from persecution for the sake of justice." (Beatitudes, Matthew 5)
As people of faith from Ventura County, our hearts break with our brothers and sisters of Mother Emanuel African Methodist Episcopal Church in Charleston, South Carolina, as well as those affected by the shooting in the wider Charleston community and around the country.
We are hurting for those who sought spiritual solace and were cut down in their own space of worship.  The site of this tragedy, was a place of worship, a place of safety, a place of refuge; a sanctuary.  We pray for a day when we do not have to fear misuse of firearms, whether in our houses of worship or in any public space.
We lift up in prayer for all those who are victims of violence, their families and friends, especially those at Mother Emanuel AME Church.  We pray not only for those who commit acts of violence, but also for those in our communities who are at risk of committing violence; that they may find the path for peace and love in their hearts.
All of us—people of faith and people of conscience alike—need to begin reaching out to each other as the brothers and sisters that we are to create a better world.  We believe in a country where all individuals should be able to live freely without fear, discrimination or threat due to their denomination, color, race or ethnicity.  We call upon local and national leadership to work collaboratively with our families in order to achieve safer communities for all people.
"Given the proper training and generalship, non-violence can be practiced by the masses of mankind."
(Mahatma Gandhi)
We are all ONE interconnected human race.  We acknowledge that peace begins in our own neighborhoods at home, where true peace begins.  We recognize the need to reach out to our neighbors and get to know each other on a spiritual level.
"Humankind has not woven the web of life.  We are but one thread within it.  Whatever we do to the web, we do to ourselves.  All things are bound together.  All things connect."  (Chief Seattle, 1854)
Finally, as adults we must stand firm and commit to guiding our children and youth a manner that reflects honesty and integrity.  We must intently listen to our children, and be especially wise when they are confused, angry or hurt.  It is at these moments when we can make the most difference.  Otherwise, they may take matters into their own hands.
"Give us the wisdom to teach our children to love, to respect and to be kind to one another that we may grow with peace in mind."  (Native American Prayer)
We pray for all people of goodwill to believe in their own power of love and sound mind to connect across the ethnic and cultural boundaries that so often divide us.  CLUE-VC stands in solidarity with our brothers and sisters of Mother Emanuel African Methodist Episcopal Church in Charleston, South Carolina.  We hope that in Ventura County, we will continue to learn by your humbling example of forgiveness in this tragedy.
---
Filed under: Uncategorized
Like this post? Subscribe to my RSS feed and get loads more!