Tuesday, November 18th, 2014 at 2:05 pm
In the high desert near Victorville, the Adelanto Detention Facility imprisons about 1300 male immigrants. Most remain isolated from their loved ones. We exchange letters, visit detainees, or both. We hear their stories, learn about their situation and see how they are coping. Sometimes we facilitate communication between detainees and their loved ones.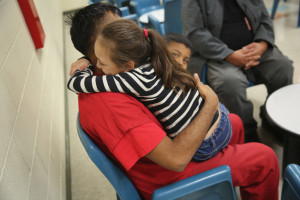 We also shine a light on human rights violations which often take place at detention centers. These detentions are ordered by Congress through quotas, costing about $2 billion per year. No other law enforcement agency is mandated to meet a quota of detainees. The Adelanto Detention Facility is the largest detention center in California. Owned and operated for corporate profit by the GEO Group – the largest private prison corporation in the world. GEO, and other detention corporations, heavily lobby members of congress to ensure corporate growth and profit.
Overseen by the Department of Homeland Security (DHS), Immigration and Customs Enforcement (ICE) incarcerates people without a trial or right to an attorney.  "Detainees" do not have the right to an attorney because they are charged with civil, not criminal, violations.  People are "detained" for many reasons. Some come to this country seeking asylum from persecution. Some enter without inspection, others were inspected but overstayed their visa. Regardless, many lived and worked here for many years, owned a business and home, raised U.S. citizen children but were never able to obtain proper documents due to outdated immigration laws.  According to DHS, only 9.8% were deported due to criminal charges. That is 90.2% were deported for civil violations such as entry without inspection, or overstaying their visas*. That is, they were deported for seeking a better future for their family, as countless others have since the birth of our nation. American citizens have even been mistakenly detained and deported.
Often families are separated. Some family members are U.S. citizens while others are undocumented. When parents are detained or deported, U.S. citizen children go to foster care or are even adopted. Although many detainees qualify for status, some are pressured by ICE to sign voluntary departures. Others, are detained and eventually get an administrative hearing. However, most detainees are deported without access to legal counsel.
Unite with us to provide relief to their peril.
We work with volunteers to end isolation to immigrant detainees. English and bilingual speakers welcome!

Coordinating visits to the Adelanto Detention Center
Facilitating correspondence between our volunteers and immigrant detainees
Providing materials and support to conduct presentations regarding immigrant detention for corporate profit.

Visits:

Twice a month

Visitor and Coordinator meet to discuss the nature of the visits and address any questions visitors may have
Visitor writes confirmation letter to detainee two weeks prior to visit
Visit lasts an entire day

New visitors are paired with experienced visitors
If visitor is comfortable, material and advice is available to present on the issue of "Immigrant Detention for Profit"

Presentations:

Due to intense lobbying by corporations, Congress imposed mandatory quotas for the number of immigrants that must be detained.

No other law enforcement agency has similar detention quotas
Immigrant detention corporations reap an annual average of $2 billion.

Volunteer presenters are provided with assistance, hardware and other presentation materials

Correspondence

Visitor and Coordinator meet to discuss correspondence and address any questions visitors may have
Detainee contact information is provided
For more information, contact Victor Escobar
805-607-3599
victor@cluevc.org

*http://trac.syr.edu/phptools/immigration/charges/apprep_newfiling_charge.php